The patent no. US11415642 "A device for sensing a magnetic field" owned by the National Research Council (CNR), the University of Chieti-Pescara and Quantified Air B.V. (NL) has been recently granted by the US Patent & Trademark Office. The invention described and claimed in this patent is part of the results of the FET-Open project "OXiNEMS" coordinated by CNR-SPIN.
The patent application, filed on 15 April 2020, has been granted after only 2 years from its filing: a real outstanding result, encouraging the owners to go ahead with this challenging project!
Moreover, the patent for this invention is also close to be granted by the European Patent Office.
The patent describes a novel type of mechanical magnetometer based on a superconducting nanostructure and a vibrating magnetic microresonator whose readout is made using an optical detector. The targeted application of this sensor concerns the field of biomagnetism, i.e. the measure and study of very small fields (~1-100 fT) generated by biological processes such as brain or muscle activity, as in magnetoencephalography (MEG) or magnetocardiography (MCG), or by magnetized tissue, as in Ultra Low Field MRI, even in strong (~1T) applied fields as in Transcranial Magnetic Stimulation (TMS).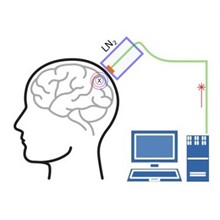 Additional information
Title:
A device for sensing a magnetic field 
Inventors:

L. Pellegrino, N. Manca, D. Marré, F. Remaggi, R. Bertacco, F. Maspero, W.J. Venstra,

S. Della Penna, I. Hilschenz, A. Kalaboukhov, F. Lombardi 

European patent publication No. 
EP3896470
Filing date:
15th April 2020
Applicants:
National Research Council, University of Chieti-Pescara, Quantified Air
References:

Innovation Radar European Commission initiative
Last modified on
Tuesday, 06 December 2022 18:26